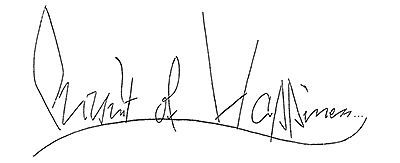 In this first artistic endeavour I explored the possibilities suggested to me by an 18th century carpenter's work bench, giving free rein to my visual imagination.
The dialectic between this functional object and the vivid emotions it inspired in me opened up an infinite range of possibilities, such as a painter beholds when standing in front of a blank canvas.
These artworks express my creative vision and reflect my sensibilities.
Their complex ornamentation endows each one of them with deep meaning.
Inspired by the noble character of different types of wood, I used various combinations of material (matches, string, rattan, leather, etc.) to give substance to my work and emphasise the importance of messages expressed by simple means.
I then added scenographic elements using pine resin, beeswax and paint, in an attempt to penetrate the very soul of the raw material.
Drawing, painting, sculpture and engraving are all an integral part of my work.
I adorned the feet and ends of most pieces with bronze, in a paradoxical juxtaposition of the precious and the plain.
The work took twelve months to complete and I have called it…
"Pursuit of Happiness"
***
Pour ma première expérience artistique, mon imagination libre et visuelle m'a conduit à explorer cet objet de travail datant du XVIIIe siècle.
La dualité intrinsèque entre la fonctionnalité de l'établi et les émotions vives qu'il a suscité en moi m'a donné d'infinies possibilités, tel un peintre devant sa toile.
Ces créations expriment ma vision créative et sont le reflet de ma sensibilité.
Leur ornementation complexe confère à chacune d'elles un sens profond.
Inspiré par la noblesse des différentes essences de bois, j'ai utilisé plusieurs associations (allumettes, corde, moelle de rotin, cuir...) qui matérialisent mon travail et souligne l'importance des messages exprimés par des moyens simples.
Sur ces bases est venu se greffer un travail de scénographie alliant résine de pins, cire d'abeille et peinture, une tentative de pénétrer dans l'âme même de la matière première.
Le dessin, ainsi que la sculpture et la gravure font partie intégrante de mon travail.
J'ai habillé de bronze les pieds et côtés de la plupart de mes créations, pour accentuer l'aspect précieux et contradictoire de ma démarche.
J'ai donné un nom à ces 12 mois de travaux...
"Pursuit of Happiness"